Pete and Radio
Since my first time in a radio studio, aged 13, I knew radio was in the blood. On this page is a short, and slightly indulgent, look at my years in radio, plus some links that some may find useful.
My background:
I started out as one of the guest kids presenters on Essex Radio's Saturday morning Wotnot Show, hosted by Tim 'Timbo' Lloyd. This not only got me on-air for the first time in my life, but more importantly got me into the building to meet the faces behind the voices. Well and truly hooked, I made it my mission to end up working for the station (when I was old enough). Hard work paid off, and when I was sixteen, I started working behind the scenes answering the phones and helping out in the studio. A couple of years later, I was working for the radio station, full-time, as a commercial producer and as a studio Technical Operator, whilst also working at Hospital Radio (Thameside Radio).
In 1990, I then moved to London as Commercial Producer and Station Engineer for Spectrum Radio. 1994 saw me back at Essex Radio working for the Creative Team, finally moving to Engineering as IT Manager. This involved setting up the computerised playout systems for Essex FM, Breeze, Vibe FM, Oasis FM, Ten17 and KFM.
I'm out of the industry now – radio's not what is was in what I loosely call "the good old days"…. but even though it's all about balance sheets, automation, voice tracking, networked show and liner cards, as opposed to innovation and serving the audience, I still keep an ear on what's going on, and am working on a couple of radio projects. 25 years on, I'm passing on my radio experiences to a new generation through the 'Introduction to Radio' weekend college course at South Essex College, and have recently been working on two large-scale Internet radio projects.
UK Radio Links
Pete and Thameside
Where it all started for me, a junior Technical Operator on a Monday evening at Thameside Radio in Southend.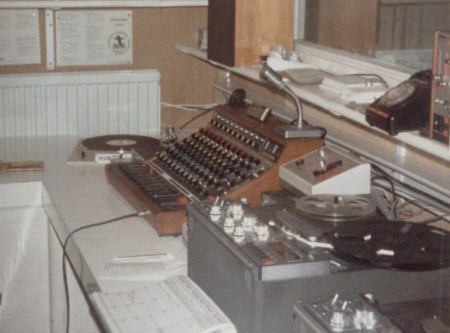 Where it all started – Thameside Radio Master Control in 1986
I'm still involved with hospital radio, over 25 years on. As well as serving on the committee and acting as a trustee of the local station, I also look after the mailing list and Facebook page for past and present Thameside Radio / SHR members: SHR Facebook Group | Thameside Radio Facebook Group
Pete and Essex Radio
I started part-time work as a technical operator in the mid 1980s, before moving into a full-time role in Commercial Production in 1989. Some of my happiest years were spent behind the Tweed desk in one of the underground studios in Southend's Clifftown Road.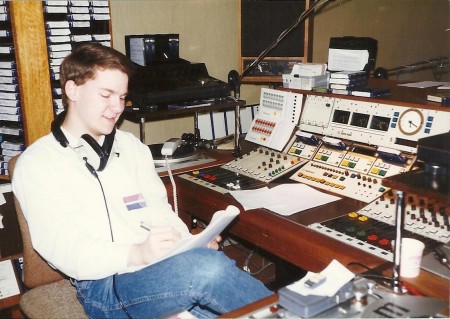 Me at the control of Essex Radio CR1 circa 1988
Some of my Essex Radio memories: The "Somewhere Special" jingles, Outside Broadcasts from Southend High Street, calling in to the radio station's phone-ins, drifting off to sleep with Lindsay King (who subsequently married fellow presenter Tim Lloyd), making a nuisance of myself in the station's lobby to get myself a job there, listening to the closedown theme (called "1431"), and my first day on-air as the studio engineer for Eddie Blackwell's Essex Jazz programme in the mid-eighties. More: Essex Radio Remembered
Pete and Spectrum Radio
I joined London-based Spectrum Radio 558 in 1990, looking after commercial and programming production. I then also assumed responsibility for engineering matters at the station.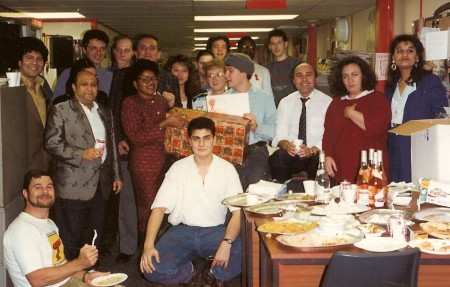 The team at Spectrum Radio 558 at my leaving do circa 1993
Pete at the Essex Radio Group
In 1994, it was back to Essex Radio to work for The Creative Team, before moving to work with the talented chaps at Essex Radio Engineering. I moved into IT, helping to install playout systems for stations including Essex FM, Breeze, Ten17, Vibe FM and Oasis FM. I left, as Group IT Manager, at the end of 1999.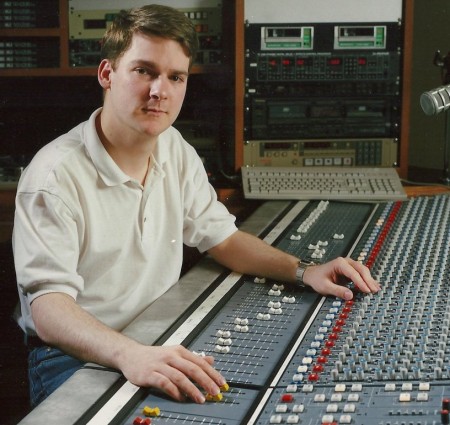 Me at the controls of the AMR desk at The Creative Team
I now maintain the Essex Radio ex-staff mailing list and Essex Radio Facebook Group
Pete Teaches Radio
In 2002, I was asked to start running a series of radio training courses for South East Essex College (now South Essex College). For more details, see Introduction to Radio Broadcasting.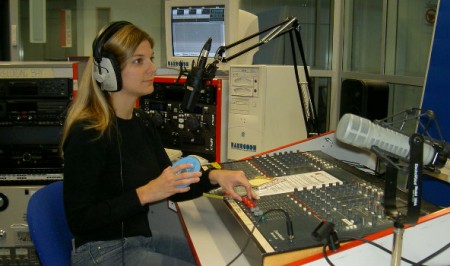 The training studio at South Essex College
Pete and Radio Today
I'm still teaching radio courses. Additionally, I look after the IT systems and am on the committee for local station Southend Hospital Radio. I work for a UK radio website, and co-host a series of online radio shows.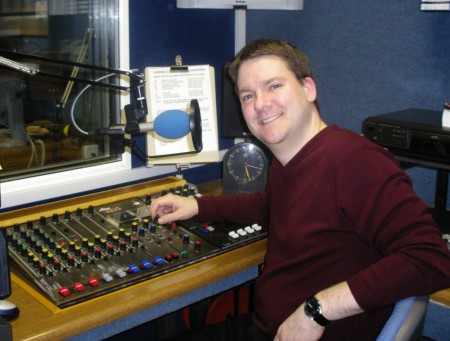 Me at Southend Hospital Radio in 2009
As of October 2010, I am a licensed amateur radio operator (station callsign M0PSX), able to send messages around the world, and use my radio skills to help the community. More details at m0psx.com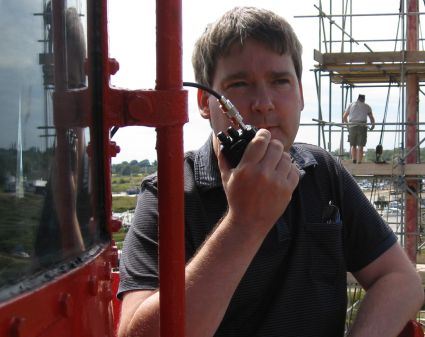 Transmitting from the LV15 Light Vessel moored at Tollesbury in Aug 2011