About Me
About Pete Sipple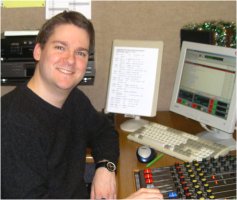 There aren't many people out there with the name Pete Sipple, so you've probably found the one you were looking for.
In case you're in any doubt, this Pete Sipple lives in Southend-on-Sea in the UK, and is currently working in the world of online marketing and technology, as well as on some online radio station projects.
In my former working life, I've spent a stack of time working in the UK commercial radio industry, and more recently, in London working on software design and project management.
In the past, I was also active within the Psion community, where I released BankPlus (my first experiences with Shareware), before joining the team at Psion full-time in 2000.
In my spare time, I run radio courses, and website courses at South Essex College, look after a few websites for local businesses and charities, and am out-and-about with my digital camera.
You may also find me doing something comedy-related, working on an ongoing podcast project, or exploring the hobby of amateur radio.
Family tree: The surname Sipple (not my choice!) is very uncommon in the UK, and I'm working to trace the Sipple family tree. Find out about the name Sipple around the world.
Photos: Most of my collection of photos can be found on Facebook
Stuff: I used to maintain a list of gadgets and shows I was keen on. The old list is here: Pete Recommends