About Psion
About Psion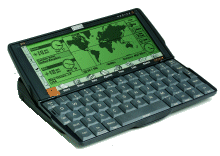 The first Psion machine to appear was the Organiser I, back in 1984, followed by the Organiser II, MC range, Series 3, 3a, 3c, Siena, Series 5 and the Series 3mx.
Sadly, in 2002 Psion announced its withdrawal from the PDA market, meaning that its range at the time, consisting of the Series 5mx, Revo, Revo Plus (including a re-badged version for the US, the Diamond Mako), Series 7 and netBook, are the last machines from Psion. (Rebadged Psion machines have also appeared as the Ericsson MC218 and the Acorn Pocketbook).
The Operating System, EPOC, is now owned and developed by Symbian, and has been used by manufacturers such as Ericsson and Nokia. EPOC v6 was used in the Nokia 9210 Communicator, and Symbian OS can be found in smartphones such as the Nokia N97 and the Nokia E90.
For more details on Psion and Symbian OS devices, go to www.filesaveas.com
Pete Sipple and Psion
Psion has been a very important part of a sizable percentage of my life. Here are a few headlines:
Owned one of the first Psion Organiser II devices
Wrote and edited a large number of articles for Palmtop and Palmtop User magazines
Ended up working for Psion, in Software Design and Specification
Still maintain Psion content via the FileSaveAs website, one of the few sites still to cover Psion help and advice
Own the Framptonites mailing list and the Psion Facebook groups, to help former Psion staff in touch with each other
Psion Help and Advice
Need help with a Psion problem? Try asking in the Psion forum
Psion links:
Need help with a Psion problem? Try asking in the Psion
forum