Getting started with your family tree
Looking to start on your family's history? This page provides some information on tracing a family tree, for anyone looking to start putting the pieces together.
How to get started…
If you're curious about your family's history, or the history of your family tree, consider doing some digging into your history. Thanks to the Internet, research is now easier than ever before. This page gives you some tips on getting started. If you'd like to comment on this page, please post a message in the forum
The first thing to start with, is building up a picture of the information you know – parents, grandparents, brothers and sisters and children. Information such as date of birth and marriage dates is especially useful. See if anyone in your family has any useful material, such as a box of memories, collection of paperwork (such as birth certificates), or a photo album. It's also worth considering interviewing some of your relatives and recording the conversation on a portable voice recorder – it all helps.
The Internet is, of course, a great resource, and if you want a flavour of the sort of thing available, try entering a family name in the box below to see what records are at the huge site Ancestry:
You'll next need to find a good way of storing this information, perhaps using the following methods:
Building your family tree
For the last few years, I've been recording my family tree using a PC-based program, Rootsmagic 3 – an application I can highly recommend – as well as this program, there's quite a selection available from Amazon.
In the past, I've had some good results with Genes Reunited (from the makers of the Friends Reunited – remember them?) – This service allows you to create your family tree online for free, and search for links to other people who are also researching names in your tree. It's free to create an account and get started, and if you want to unlock some of the other features, such as email, forums and merging trees.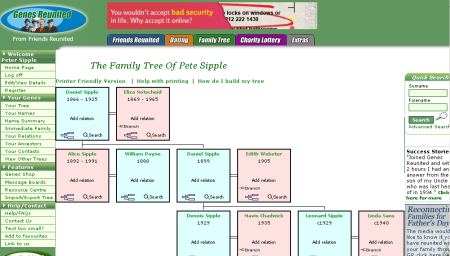 Build your tree, free, at www.genesreunited.co.uk
---
Births, Deaths and Marriages
Now's where it starts to get harder. You now need to select a branch of the tree to investigate further, and then start to work backwards. Let's assume you have no information on your Great Grandfather… If that's the case, you probably want to start by finding out his name his name. To do this, you need to order your Grandfather's birth certificate (which will also reveal your Great Grandfather's occupation and your great Grandmother's name). You could also order your Grandfather's marriage certificate, which may reveal the age of your grandparents, and the names/occupations of their fathers. From
those certificates, you can start looking for the Great Grandfather's birth or marriage certificates, and so on… back to 1837, which is when the registration / certificate process started.
Certificates yield information such as other relatives, occupation, age, street address and names of marriage witnesses, and can be ordered from the GRO (General Records Office) – see below. To order a certificate, you need to find out in which year and quarter, and which registration district, the event was registered. To do this, you need to consult an index of births, deaths and marriages.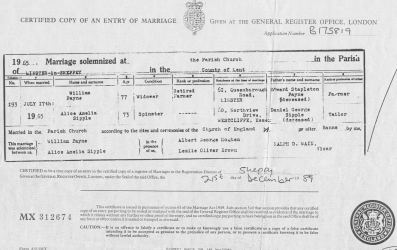 A marriage certificate
More information:
---
Census information
Census information from 1841 to 1911 is publicly available. If you have a household
address, you can find who else lived at that address – in many cases, you can pick up the names, occupations and years of birth for an entire family.
The best treasure out there is the 1901 census – now available online. With this, you can download a census sheet like the one below: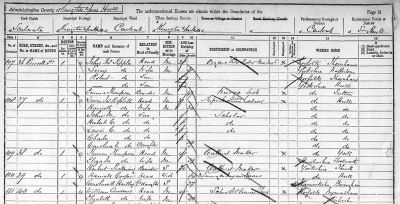 1901 Census Sheet, listing all occupiers of a property
The census really can be your best source of information, giving you details of all of the family, with ages, places of birth, and occupations.
We recommend: Ancestry.co.uk, who provide online access to the UK 1841, 1851, 1861, 1871, 1881, 1891 and 1901 census – and you can search by surname. Try entering a search in the box below: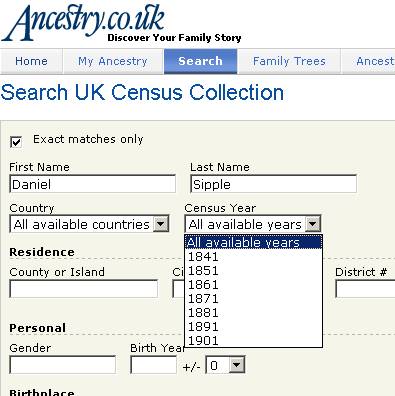 Screenshot of Ancestry Census lookup
More Information:
---
Using the Internet
One of the best resources out there, is www.familysearch.org – a huge collection of bits of information made available by the Church of Jesus Christ of Latter-day Saints. Well worth starting off here and trying a search.
Next off, give Ancestry.co.uk a try, to see what they hold. Ancestry is one of the larger commercial services, and they offer a vast collection of names from the UK, and around the world – this is the only service I'd recommend paying the subscription for, as the service truly is value for money – there's a free 14 day trial, so give it a whirl.
Other links
---
Taking things further
It helps to get hold of a good book on the subject. My starting point was Tracing
Your Family History (author: Stella Colwell), but it's best to take a look
at what's on offer and what suits you. It's worth having a look at what's available in Amazon's Family History books collection.
I get a small cut of book sales made via Amazon, so if you're buying, please
show your support by buying from Amazon link.
---
Family Tree Frequently Asked Questions
How
can I share my tree?
Just about all family tree programs and Internet services allow you to share information about your family tree, using a standard format called strong>GEDCOM.
A GEDCOM file contains key information that can be read by just about all genealogy software, and makes it easy to share your research.
If
you're using Genes Reunited, here's how to export your GEDCOM information, and email it to another family historian:
Sign on to GenesReunited
Select "Import/Export tree" from the menu on the left, then press
the 'Export Gedcom' button.
After a few seconds, you'll be prompted to download/save the file.
Select this option, and save the file. It'll have a filename like "sipple123456.ged"
From your email program, create a new email, and select the attachment option
(paperclip), then attach the Gedcom file
Need for information? Please ask in this site's Family Tree forum