Essex Radio Staff Reunion January 2003

Pictures from the Essex Radio Staff Reunion in Wakering on Saturday 4th January 2003
Click an image for a larger picture, right-click to save a copy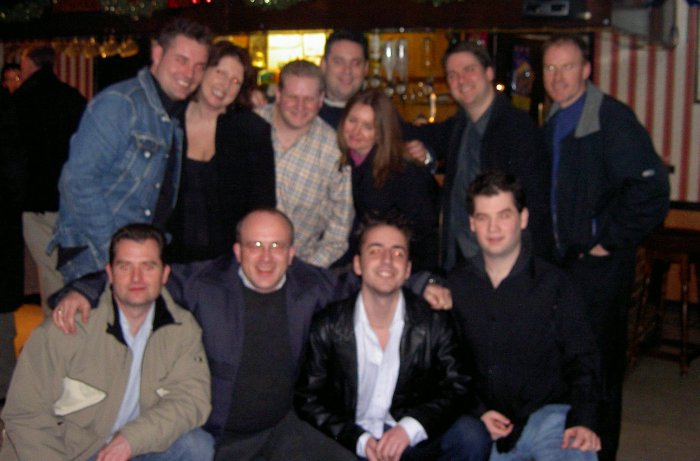 The Essex Radio reunion was held on Saturday the 4th of January 2003, at Great Wakering Rovers Football Club. Around 70 Essex Radio, Breeze and Essex FM folk showed up. This included several Day One people including: Dave Gillbee, Keith Rogers, Dave Gregory, Tim and Lindsay Lloyd, Roger Buxton and Dennis Rookard.
An excellent buffet was laid on, musical memories came in the form of a compilation of jingles and extracts from the station's history, and we were entertained with speeches from David Baker, Timbo, Phil Hilton, Gavin McCoy, Dave Gregory, Dave Gillbee and, of course, Roger Buxton.
Biggest thanks of the evening go to David Baker for organising the reunion… although it's been talked about before, David was the man who pulled it all together!
More photos were taken on the night… If you had a camera there, I'd be really keen to take a loan of your photos to scan them in for this site, so that those that couldn't attend can see a more complete record. Please let me know. If anyone's interested in printed copies of the photos on this (or other)
pages, or in getting hold of any off-air extracts as MP3 files or on CD, get in touch and I'll see what can be done. Click here to get in touch.
Finally, if you've worked for Essex Radio in the past, please sign up to the free mailing list (most of the attendees of the reunion… wouldn't have known of it without this mailing list). You can sign up by clicking here.
Judging by the success of the January 2003 reunion… it could become a regular event…
Great to see so many faces, and to catch up on so many Greatest Memories, from Somewhere Special!
Pete
Essex Radio Remembered | Audio | Mailing list archive | Radio in Essex